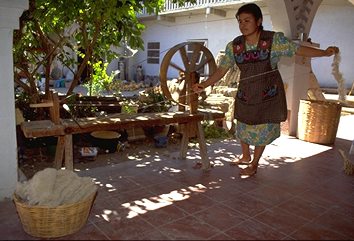 The Weaving Process
At the weekly market in nearby Tlacolula, Elena Gonzalez buys pillow-like bags stuffed with freshly shorn wool, the first step in its journey from the dust covered backs of sheep to the weaver's loom.
At the Gonzalez home, the wool will be washed thoroughly, carded, spun into yarn, dyed, measured onto spools, and finally woven on a large wooden loom.
Each step of the process is done by hand with techniques that have been handed down for generations.
[Visit the Weavers]