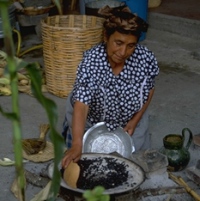 On a street in Teotitlan del Valle, two Zapotecs meet with a soft-voiced greeting and a gentle handshake. It's a simple action, respectful and warm, communal and soft spoken. In many ways, it is much like the Zapotec people themselves.
For thousands of years, Zapotecs have lived in Oaxaca's valleys and mountains. 400,000 Zapotecs live scattered across southern Mexico, making them the country's largest indigenous group.
The Zapoteca language varies substantially from region to region, even from village to village. The Zapoteca spoken in one region may be unintelligible in another.
The world of the Zapotecs is tied strongly to their past. Ancient traditions continue in food, crafts, festivals and more. Crafts such as weaving and pottery have been done the same way for hundreds (even thousands) of years.
[Visit the Weavers]