In the early morning darkness, the slow, steady thump of a weaver's loom adds its voice to a tranquil chorus of crickets.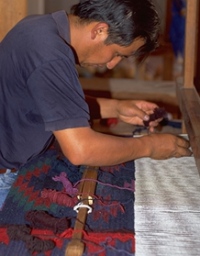 A man hunches over a half-finished weaving, his fingers flying across its intricate designs. Nearby, his wife sits quietly preparing raw wool to spin into yarn.
Shortly after dawn he is in the fields, eyeing the sky for signs of rain and relishing his connection to the soil that feeds his family.
Such is the rhythm of life in Teotitlan del Valle, where time is measured by the row-by-row progression of weavings on a loom, and the age-old cycle of the seasons.
Come meet Ruben Gonzalez and his family. Peer into the Zapotec culture with its ancient roots, and discover "artelar"…the art of the loom.
[Visit the Weavers]