If you are going to Oaxaca, why not go to Teotitlan del Valle and meet the Gonzalez family in person? They welcome visitors, and would be happy to show you first hand how the weavings are made.
They live one block west of the church, near the school. The address is: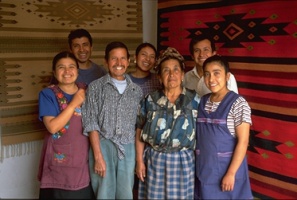 Avenida Juarez #41
Teotitlan del Valle
c.p. 70420
Here is a map for you to print out and take with you.
If the door is closed, simply knock. You won't be intruding. Let them know that Curt Rosengren suggested you should visit. Both Leonel and Osvaldo speak English, so don't worry if you don't speak Spanish (or Zapoteca).
If you are interested in really having an authentic Zapotec experience, they have an extra room which you can rent for the night. It's fairly basic (you'll be living like they do). Not only is it an incredible opportunity to experience first hand what life in Teotitlan del Valle is really like, you'll also have a chance to share their meals (and Elena is a fantastic cook).
From time to time Osvaldo (one of the sons) goes in to Oaxaca city to an internet cafe and checks an e-mail account. If you'd like, you can contact him before you visit at artelar@latinmail.com.