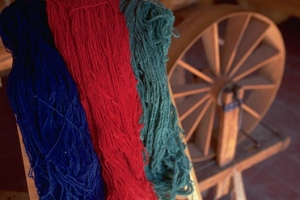 Dying the Yarn
In enormous use-blackened pots, the dyes that transform the wool work their age-old magic.
As Leonel strains against a long staff, lifting a soaked bundle of freshly red yarn out of one pot and hanging it up to dry, his sister Magdalena directs the activity.
She is responsible for the dying process in the Gonzalez home, mixing the dyes and ensuring that the dying yields quality results. The entire family works as a time through the process.
Many of the dyes used this day are natural dyes, coming from roots, leaves, nutshells, even insects. Successive uses of each pot of dye will create progressively softer colored yarn.
[Visit the Weavers]