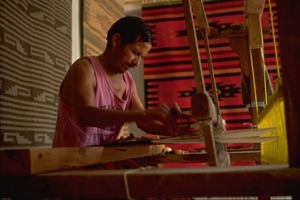 In a world where centuries-old traditional crafts are slowly disappearing, the history and culture of the weavers of Teotitlan del Valle is alive and thriving.
The works created by the indigenous artisans in this small Mexican town are as beautiful as they are high quality.
But behind each weaving also lies a story of cultural identity, and the lives of the artisans themselves.
Come explore that story, and get to know the world of the Zapotec weavers.
And if you are planning a trip to Oaxaca and would like to experience a slice of Zapotec life, think about a visit to the Gonzalez family in Teotitlan del Valle. They would be happy to show you how the weavings are done, and would welcome your visit.